#1 Rated EV Protection Service in Phoenix AZ
As the electric vehicle (EV) market continues to grow rapidly, TINT 360 is at the forefront of providing comprehensive EV Protection Phoenix AZ services tailored specifically for EV owners. Our expertise extends to some of the most sought-after electric vehicle brands, including Tesla, Rivian, Lucid, Porsche, Audi, and Kona. With our range of services, we ensure that your new electric vehicle remains in pristine condition while enhancing its performance, comfort, and style.
Paint Protection Films (PPF) for Unmatched Shielding
Protecting the paintwork of your electric vehicle is crucial, as it not only preserves its flawless appearance but also helps maintain its resale value. Our premium EV Protection Phoenix AZ (PPF) offers unrivaled defense against rock chips, scratches, and other road debris. Specifically designed to withstand the unique needs of electric vehicles, our PPF shields your car's vulnerable surfaces, such as the hood, front bumper, side mirrors, and door edges. Drive with confidence, knowing that your EV's exterior is shielded by the finest protection film on the market.
Comfort and Privacy in Every Ride
The scorching sun and harmful UV rays can not only make your EV's interior uncomfortably hot but also cause damage to the upholstery and electronics. Our high-quality window tinting solutions provide superior heat rejection and UV protection, keeping your cabin cool and safeguarding your investment. Additionally, our tinting services offer privacy and reduce glare, ensuring a comfortable and enjoyable driving experience. Trust TINT 360 to provide the perfect balance of style, comfort, and EV Protection in Phoenix AZ for your electric vehicle.
Unmatched Gloss and Long-Lasting Protection
Elevate the appearance of your EV with our industry-leading Ceramic Coating services. Our cutting-edge ceramic coatings form a protective layer that enhances the gloss and depth of your vehicle's paint, while also providing long-lasting EV Protection in Phoenix AZ against environmental contaminants. With its hydrophobic properties, the ceramic coating repels water, dirt, and grime, making your electric vehicle easier to clean and maintain. Give your EV the ultimate shine and protection it deserves with our state-of-the-art ceramic coatings.
Customized Style for Your Electric Vehicle
At TINT 360, we understand that electric vehicle owners have a desire to stand out from the crowd. Our expert team can transform the look of your EV with our top-notch vehicle wraps. Whether you want to change the color, add custom graphics, or promote your brand, our skilled technicians will meticulously apply the wrap, ensuring a flawless finish that turns heads wherever you go. Embrace your EV's unique identity and make a bold statement on the road with our custom vehicle wrap solutions.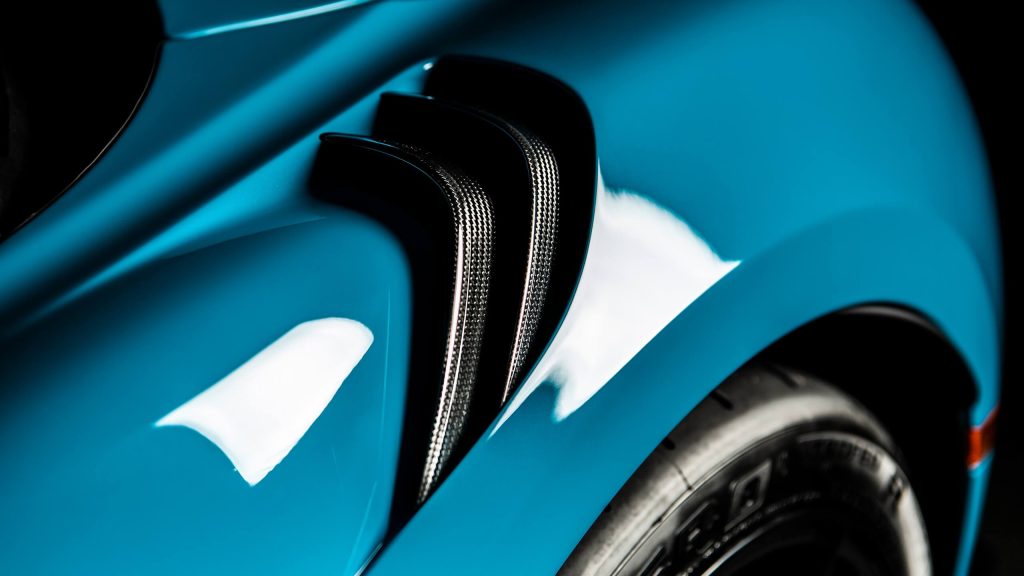 Sleek and Modernize Your Electric Vehicle
For those seeking a sleek and modern look, our Chrome delete service is the perfect choice. Say goodbye to the shiny chrome accents on your EV and opt for a cleaner, more streamlined appearance. Our chrome delete service covers the chrome trim with a high-quality, color-matched vinyl wrap, giving your electric vehicle a more sophisticated and cohesive look. Embrace the future of automotive design with our chrome delete service.
Unmatched Expertise for Your Electric Vehicle
At TINT 360, we take pride in our extensive knowledge and experience in working with electric vehicles from renowned brands such as Tesla, Rivian, Lucid, Porsche, Audi, and Kona. Our team of skilled professionals understands the unique requirements and intricacies of EVs, ensuring that every service we provide is tailored to their specific needs. Trust us to deliver exceptional results, preserving and enhancing the beauty of your electric vehicle for years to come.
Contact us today to explore our comprehensive range of EV Protection Phoenix AZ services for your electric vehicle. From Paint Protection Films (PPF) and window tinting to ceramic coatings, vehicle wraps, and chrome deletes, we have everything you need to unlock the full potential of your electric vehicle. Experience unmatched quality, style, and protection with TINT 360—the trusted name in new vehicle EV Protection in Phoenix AZ for electric vehicles. You can discover more about our services by visiting our social media pages on Instagram, Facebook, and YouTube.
OTHER AUTOMOTIVE SERVICES

Ultimate Armor Protection Package
nano-ceramic window tint
Paint protection film